PVC is safe in use. Formulations can be designed to meet critical health and food contact standards, and a wide range of other applications.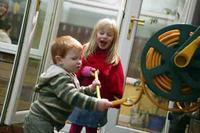 All PVC formulations are stable and flame-retardant.
July 2001, Europe: The EC Joint Research Centre validates methodologies measuring plasticiser release from toys. The EC Joint Research Centre (JCR) co-ordinated the validation of 2 methodologies to test the migration of certain plasticisers in toys in more than 15 laboratories in both the EU and USA.
April 2001, Australia: Conclusions on some of the scientific issues concerning the use of PVC products. This study analyses the issues identified in the CSIRO' June 1998 report. The balance of available evidence indicates that PVC in its building and construction applications has no more effect on the environment than alternatives.
June 1999, Germany: UBA report reveals differentiated pictures depending on type of application for environmental performances of PVC applications. The German environment agency UBA has developed a model to anticipate substance related environmental protection in a sustainable development and eco-efficiency perspective. The model was exemplified and verified with PVC taken as an example.